By the Chef Marshall O'Brien Group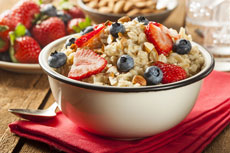 Kick your breakfast up a notch with this tasty combination that covers all the right nutritional categories. The quinoa can be made in batches ahead of time so you can scoop a portion every morning and add the yogurt, fruit and nuts for a speedy, portable breakfast.
Serves 4
Ingredients
1 cup dry quinoa
2 cups water
1/2 teaspoon ground ginger
1/2 teaspoon ground cardamom
1/8 teaspoon kosher salt
1 1/2 cups plain Greek yogurt
4 tablespoons honey
1 cup blueberries, blackberries, raspberries or strawberries
1/2 cup unsalted, raw almonds, chopped
Directions
Combine quinoa, water, ginger, cardamom and salt in a sauce pan. Bring to a boil, reduce heat to low, and cover.
Cook for 15 minutes and set aside. Option: made ahead and chill.
To serve, evenly distribute quinoa into 4 bowls. Top with yogurt, honey, berries and almonds.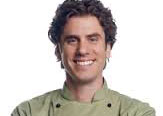 The Chef Marshall O'Brien Group is a dedicated assembly of professionals based in Minneapolis, Minnesota, committed to the goal of using nutrition to get kids and families to lead happier, healthier lives.