By the Chef Marshall O'Brien Group
Pack these easy-to-eat wrap sandwiches in your insulated lunch pack along with some veggie sticks and fruit for a filling lunch. If you like it spicy, season the chicken with some sriracha sauce or use spicier salsa. The average adult needs 4 ounces of protein so consider increasing the chicken or eating two wraps if this isn't a child's lunch.
Makes 4 sandwiches
Ingredients
1 cup hummus
½ cup mild salsa (low-sodium, no added sugar)
½ pound cooked chicken breast, cut in strips
1 cup English cucumber, bias-sliced, ¼ inch thick
2 large romaine lettuce leaves, thinly sliced
4 large whole grain tortillas
Directions
Lay out tortillas on a work surface.    
Distribute hummus and salsa evenly on tortillas.    
Add chicken, cucumbers, and romaine, spreading evenly.    
Roll up and cut in half on the bias.    
Accompaniments:
Carrot sticks, red bell pepper strips, jicama sticks, individual servings of guacamole for dipping, apples, grapes, orange segments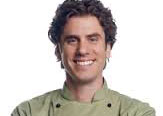 The Chef Marshall O'Brien Group is a dedicated assembly of professionals based in Minneapolis, Minnesota, committed to the goal of using nutrition to get kids and families to lead happier, healthier lives.