Prepare for an active day to see the seasons by bicycle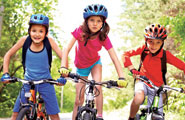 A family bike ride is a fantastic way to spend time together, be active and have a blast. To have a safe and successful day seeing the world from two wheels, it's important to do a bit of planning and prep.
Plan a safe ride
If your family is heading out for a ride, the National Highway Traffic Safety Administration suggests tips for riders of all ages, including:
Adjusting the bicycle to fit—with both feet flat on the ground, standing on your bicycle there should be one to three inches of space between you and the top bar
Checking bike equipment before heading out
Wearing a properly fitted bicycle helmet
Making sure motorists can see you by wearing bright, reflective clothes and outfitting bikes with a headlight or rear flashing light
Controlling the bicycle by riding with at least one hand on the handlebars at all times
Using hand signals
Being on the lookout for road hazards that can cause a crash
These guidelines aren't just for kids—be sure to set a good example and follow the tips yourself—including wearing a helmet and obeying traffic laws.
And remember that bike rides don't always go as planned. Try to be prepared ahead of time with snacks, water, diapers or other family essentials for those "just in case" situations.
Where to ride
In the city, the safest place to ride is on the street, however, kids under age 10 might have trouble remembering the rules of the road, and the sidewalk might be safer for younger kids. When planning a city route, consider avoiding busy intersections, big hills and choosing streets with dedicated bike lanes.
A bike path free of cars is a great choice for family rides—and there is no shortage of bike-friendly paths in Minnesota. The Minnesota DNR suggests planning a ride with kids on paved trails with a gentle grade—like you might find along an old railroad. Check out family-friendly bike trails in Minnesota and a list of paved trails around the state.
Try a new adventure
Once your family has mastered the basics of biking, challenge yourselves by trying something a little different.
Mountain biking can be fun with older children. Pedal Minnesota suggests: