Tip: Simplify your holiday season to enjoy it more fully and start the new year healthier.
By the Chef Marshall O'Brien Group
While there is much to celebrate about the holiday season, the preparations, parties and expenses can all feel overwhelming. This year, enjoy the holidays more and emerge healthier by simplifying – cut back on your to-do list, stay nourished with simple meals, host simple gatherings to spend quality time with loved ones, and remember that nothing needs to be perfect. When you relieve yourself of some of the end-of-the-year stress, you will enjoy the holiday season more fully and close out your year with joy.
Shorten Your To-Do List
This year, de-stress your holiday season and enjoy more time with loved ones by cutting back on your to-do list. Take inventory of last year's list and remove items that didn't add to your joy, or were too stressful to warrant doing again. If you are not ready to let go of beloved traditions, consider putting them on bi-yearly rotation – you will more fully enjoy your holidays without feeling overwhelmed, and can look forward to old traditions feeling 'new' again.
Keep Weekday Meals Simple
The last thing you need during the deluge of holiday planning and preparation is more stress over cooking. Keep weekday meals simple, quick and nourishing to fuel you through the extra demands of the season. Plan ahead by doubling your recipes now and freezing the extra portions for later. With a freezer stocked full of nourishing meals, weekday dinners will be a breeze – and you'll have plenty of time to devote to your to-do list.
Forgo the Feast
If your ideal holiday party involves spending time with loved ones instead of slaving over the stove, consider hosting a simple open house potluck or cocktail party that involves appetizers instead of a sit-down meal. You will be able to spend your time enjoying your guests instead of worrying about the turkey, and your guests will appreciate being able to mingle with others instead of sitting next to the same people all night. Chef Marshall's Roasted Red Pepper-Feta Cheese Spread is a festive and nourishing topping for crudité or whole grain crackers that will delight your guests.
Spread Joy with Simple Gifts
Though well-intentioned, the expense and clutter associated with holiday gift-giving is often a significant source of stress for families. Give simple gifts that spread joy and wellness long after the gift-giving is done, without taking up more space in your home or emptying your wallet:
A coupon for a chore, favor or a home-cooked meal
A personalized collection of favorite nourishing recipes
A sampling of unique spices, teas or dark chocolate
A gift certificate for a wellness treatment to help your loved one de-stress
Do Less, Enjoy More
Pare down your holiday celebrations to traditions that are most meaningful to you and your family, and focus on spending time together with your loved ones. Keep mealtime simple with easy recipes and reign in excess spending on gifts. Simplify for a holiday season that nourishes you and adds more love than stress.
You will love the way you feel!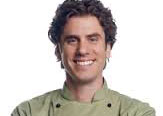 The Chef Marshall O'Brien Group is a dedicated assembly of professionals based in Minneapolis, Minnesota, committed to the goal of using nutrition to get kids and families to lead happier, healthier lives.