MANGO-AVOCADO SALSA
By the Chef Marshall O'Brien Group
Serves 4
Ingredients
1 cup fresh or frozen mango, chopped
1 cup avocado, chopped
1/2 cup Roma tomato (1 medium), diced
1/4 cup red onion, diced
1 jalapeño pepper, seeded and minced
1 tablespoon fresh garlic, minced
1/4 cup fresh cilantro, chopped
1/4 cup fresh lime juice
1/8 teaspoon kosher salt
Directions
Combine mango, avocado, tomato, onion, pepper, garlic cilantro, lime juice and salt; mix well.
Let sit at least 15 minutes before serving.
Serve with corn tortilla chips, either purchased or homemade.
Our recipe for homemade corn chips is included below.
HOMEMADE TORTILLA CHIPS
By the Chef Marshall O'Brien Group
Serves 4
Ingredients
8 corn tortillas
1 tablespoon olive oil
1/2 teaspoon kosher salt           
Directions
Preheat oven to 400 degrees.
Cut each tortilla into 6 wedges or other shapes as desired.
Place tortilla pieces in a single layer on a baking sheet.
Using a pastry brush, brush one side of each piece with a light layer of olive oil and sprinkle with salt.
Bake 10-12 minutes, or until lightly browned.
Cool before serving.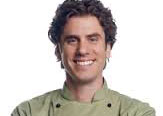 The Chef Marshall O'Brien Group is a dedicated assembly of professionals based in Minneapolis, Minnesota, committed to the goal of using nutrition to get kids and families to lead happier, healthier lives.