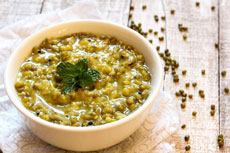 By the Chef Marshall O'Brien Group
The slow carbs in this flavorful curried lentil soup will feed the healthy bacteria in your gut and the spices will boost your immune system. Serve with a dollop of plain yogurt to boost the probiotic effect even more!
Serves 6
Ingredients
2 tablespoons olive oil
1 cup onions, diced
1 cup potatoes, chopped
1 bay leaf (optional)
1 teaspoon cumin
2 teaspoons curry powder
1/4 teaspoon paprika
1/2 teaspoon salt, or to taste
2 cups dry green lentils, rinsed
3 tablespoons garlic, minced
4 cups vegetable or chicken stock or broth
2 cups water, more if desired
1 teaspoon fresh lemon juice, or to taste
Plain yogurt for garnish (optional)
Directions
Heat oil in a stock pot on medium-high heat.
Add onions, potatoes, bay leaf, cumin, curry powder, paprika and salt; stir.
Cook until onions are softened and mixture is fragrant, about 3-5 minutes.
Stir in lentils, garlic, broth and water.
Bring to a boil, reduce heat to low and cover.
Simmer soup until potatoes and lentils are tender, 25 to 40 minutes.
Stir in lemon juice before serving.
Optional: Puree half the soup and add back to the pot for a creamier texture. Thin soup with more water, if desired.
The Chef Marshall O'Brien Group is a dedicated assembly of professionals based in Minneapolis, Minnesota, committed to the goal of using nutrition to get kids and families to lead happier, healthier lives.