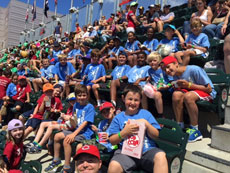 Get the scoop on summer fun for kids from a Y staff member and participating family.
About Summer Power & Summer Uproar
Summer Power and Summer Uproar are enrichment programs that are designed to fit with a busy family's summer plans. Power is for kids entering grades K-5 and Uproar is for kids entering grades 6-8.
School Age Care North District Program Director, Tamara Boeck says, "Summer Power is a great way for younger kids to practice social skills and Summer Uproar is an opportunity for older kids to develop leadership skills, and often includes some element of service learning."
The social and leadership skill development is fostered by small group experiences, which allow all kinds of kids to:
Get to know each other, build and grow friendships
Practice the Y's values of caring, honesty, respect and responsibility
Participate in rewarding, age-appropriate activities
Enjoy adventure on field trips to interesting places
You have the flexibility to pick the weeks you want and decide on three, four or five days for your child to attend. Kids can be dropped off between 6:30 or 7am (depending on the location) and 9am, and can be picked up between 4-6pm.
One family's Summer Power experience
In the summer of 2016, Melanie's son participated in the program for the first time. He had just finished kindergarten and he signed up to go five days a week through the Eagan location.
Melanie says, "We knew friends who were doing it, so I knew he would have at least one friend there with him, and I thought he would enjoy the program." It turns out, she was right and says that when she would pick him up, "He was happy and had a good day."
In addition to her son having fun, Melanie appreciated the flexibility of dates, and pick-up and drop-off times. "He would go on field trips with older kids on the bus, and I think that helped him gain confidence, too."
In 2017, Melanie registered early to ensure her son would have a spot at their preferred location for Summer Power—and he's all set to have another entertaining summer.
Tips for families considering Summer Power & Summer Uproar
If you're thinking about having your child participate for the first time, here are some tips from Tamara and Melanie:
Hours and activities vary by location—be sure to check your preferred location for details
Check out an open house, tour the space and talk with site directors
Be sure to register early for the location you want
So that everyone can participate, financial aid is available—all you have to do is complete some paperwork to see if you qualify
During the summer, you are welcome to stop in and play with or observe your child and participate in field trips
Through a working partnership between the Y and your family, your child's experience can be tailored—whether they will be attending summer school, have an IEP, or want to integrate Swim Lessons—just talk with us