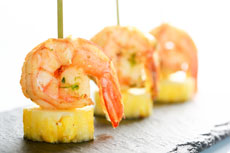 By the Chef Marshall O'Brien Group
Wake up your taste buds with this new twist on grilled kebabs! The sweet grilled pineapple and spicy peppers and shrimp are a welcome change from the usual burgers and hotdogs. It's ideal for a family meal but unique enough for a special summer gathering.
Serves 4
Ingredients
1½ tablespoons sesame oil
3 tablespoons rice vinegar
1½ tablespoons honey
1½ tablespoons chili sauce or sriracha
1 tablespoon ginger, peeled and minced
1 tablespoon garlic, minced
1½ pounds shrimp, 16-20 count, peeled and deveined, thawed if frozen
2 cups pineapple cut into 1" chunks
2 poblano peppers cut into 2" pieces
12 wooden skewers, soaked in water for at least 1/2 hour
Directions
Combine oil, vinegar, honey, chili sauce, ginger, and garlic in a large, resealable plastic bag.
Add shrimp, pineapple and peppers; marinate for 30 minutes.
Preheat grill or grill pan on high heat.
Thread shrimp, pineapple and peppers onto skewers; brush marinade on skewers.
Grill skewers on high heat, about 2 minutes per side, until shrimp turns opaque and pink in color.
Note: Because the marinade originally contained raw shrimp, do not baste skewers during/after cooking or use as a sauce when serving unless you first heat the marinade to the boiling point in a separate pan.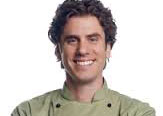 The Chef Marshall O'Brien Group is a dedicated assembly of professionals based in Minneapolis, Minnesota, committed to the goal of using nutrition to get kids and families to lead happier, healthier lives.