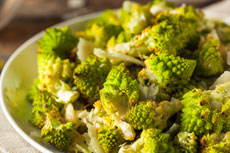 By the Chef Marshall O'Brien Group
The chartreuse green color of romanesco, a nuttier-tasting version of cauliflower, brightens up this great salad, which also features seasonal sweet corn and fresh herbs. Its unique appearance also provides a great conversation starter for your next family or neighborhood gathering!
Serves 4
Ingredients
3 tablespoons olive oil
1 head romanesco, cut into small florets
2 cups fresh corn kernels (about 3 ears)
2 tablespoons garlic, minced
1/2 teaspoon turmeric
1/4 teaspoon curry powder
2 tablespoons fresh lime juice
2 tablespoons water
1/4 teaspoon kosher salt
1/4 cup cilantro, minced
1/4 cup fresh mint leaves, torn
2 cups plain yogurt
Note: Cauliflower may be substituted for the romanesco.
Directions
Heat olive oil in a large sauté pan on medium-high heat; add romanesco.
Sauté romanesco until deeply browned, about 5-6 minutes, stirring occasionally.
Lower heat to medium; add corn and garlic and cook until corn is bright yellow, about 3-4 minutes, stirring occasionally. 
Add turmeric, curry powder, lime juice, water and salt. Stir until all liquid has evaporated. Remove from heat.
Add cilantro and mint and mix together. 
Spoon a smooth layer of yogurt onto the serving plates. Top with the salad.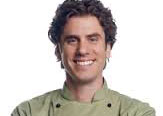 The Chef Marshall O'Brien Group is a dedicated assembly of professionals based in Minneapolis, Minnesota, committed to the goal of using nutrition to get kids and families to lead happier, healthier lives.