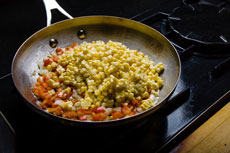 By the Chef Marshall O'Brien Group
Want to cook once and eat twice—or more? This easy veggie dish uses sweet corn, colorful bell peppers, onions and nutty, smoky-tasting cumin in a versatile combo that is great as a dinner side and can be used for lunch later in the week in a wrap sandwich or salad.
8 servings for use in multiple menu items
Ingredients
¼ cup olive oil
3 tablespoons ground cumin
6 cups (about 4 large) red bell peppers, cut in chunks
3 cups (about 2 medium) yellow onion, cut in chunks
4 cups fresh or frozen corn kernels
½ teaspoon kosher salt
½ teaspoon black pepper
Directions
Preheat large skillet on medium-high heat. 
Add oil, onions and peppers and cook until peppers soften and onions begin to brown. 
Add corn, salt, pepper and cumin and cook until corn is heated through and other vegetables are nicely caramelized.
Serving suggestions:
Serve as a side with grilled or broiled chicken breast or salmon.
Top salad greens with this mixture and a chopped hard-cooked egg for a flavorful salad.
Mix with cooked, chopped chicken breast and wrap in tortillas for an easy lunch.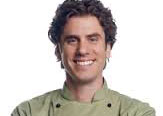 The Chef Marshall O'Brien Group is a dedicated assembly of professionals based in Minneapolis, Minnesota, committed to the goal of using nutrition to get kids and families to lead happier, healthier lives.