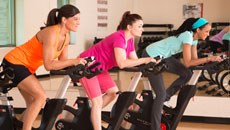 Climb hills and cruise flats, all within the climate-controlled comfort of a Y fitness studio.
Group Cycle classes are low-impact cardio workouts suitable for almost anyone. No previous cycling experience is necessary and the YMCA provides everything you need in class. Just come to class ready to get in a great workout, and have great time.
Barbara Jacob, Director of Healthy Living (plus a Personal Trainer and group fitness instructor) at the Burnsville YMCA, says Group Cycle classes work for all ages and experience levels. "You control the intensity. There's no choreography to follow—and you'll never get left behind."
What to expect in Group Cycle classes
Indoor cycling classes feature specialized stationary bikes for each participant. Class begins with a warm-up, then you get to work (think endurance and interval exercises) and class concludes with a cool-down and stretching off the bike.
During class, you burn calories and build cardiovascular endurance. 
An important reminder about Group Cycle and ForeverWell Group Cycle classes is that you're in control of your workout. "Your instructor will provide direction and encouragement, but it's up to you how hard you want to work," Barbara notes of each participant's ability to set resistance and speed on their own bike.
Gel seats, padded bike shorts and clipless shoes are welcome in class, but aren't required. Find more tips on what to wear.
At some Y locations, you need to reserve a bike on your way into class—check with your local Y.
If you've never tried Group Cycle before …
Cycling is an excellent cross-training option for other fitness activities like running. Barbara says that because it's a low-impact exercise, you can work longer on the bike to push yourself than you can running on a treadmill. "It's great for range of motion in your leg joints—like hips, knees and ankles."
For your first class, Barbara suggests:
Coming to class a little early so that your instructor can help you get your bike adjusted for your body
Choose a bike anywhere in the room that makes you feel most comfortable
Pace yourself, and feel free to tone down the intensity when you need to
After class, letting your instructor know if the bike didn't feel quite right
A perk of being a Y member is that Group Exercise classes are free. You can drop in to give them a try at any time. Ready to give it a try? Find a Group Cycle class at your local Y.