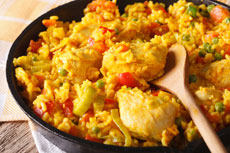 By the Chef Marshall O'Brien Group
Using prepared ingredients from a supermarket or food coop allows you to create a home-cooked meal in a fraction of the time. Using rotisserie chicken (ideally low-sodium), pre-cut fresh or frozen vegetables and canned tomatoes makes this an easy meal for a weeknight when schedules are jammed.
Serves 4
Ingredients
2 tablespoons butter
1/2 cooked rotisserie chicken, deboned and chopped
2 teaspoons garlic, minced
1/4 teaspoon paprika
3 cups zucchini, broccoli, or other vegetable of choice, fresh or frozen
1 14.5-ounce can low-sodium diced tomatoes
1/2 cup shredded Parmesan cheese
Cooked brown rice or pasta for serving (optional)
Directions
Preheat a large skillet on medium-high heat and add butter.
When butter is melted, add garlic, paprika and chicken.
Add the vegetables and tomatoes and mix well. Bring to a simmer and cook, uncovered, for 5-8 minutes until vegetables are tender-crisp. Do not overcook zucchini.
Add the cheese, mix well and remove from heat.
Serve alone or with cooked brown rice or pasta.
Make-ahead tip: Use your weekend prep time to purchase and chop rotisserie chicken, cut up fresh vegetables and cook and portion brown rice in meal-sized bags to ensure that this meal can quickly go from skillet to table on a busy weeknight.