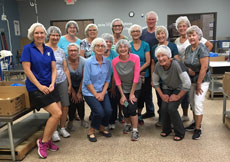 Engage with your community through volunteer opportunities
About ForeverWell
ForeverWell programming offers those ages 65 and up all kinds of ways to work on wellness—including specially designed fitness classes, educational sessions, social gatherings and volunteer projects.
"The Y strives to connect ForeverWell participants with each other and staff, through learning and opportunities to feed the spirit," says Roxy Kline, the director of Healthy Living at the Southdale Y.
A chance to help those in need
Kim Gemlo-Bush, the ForeverWell coordinator at the Emma B. Howe Y in Coon Rapids, came up with an idea to provide seniors a way to give back to the community. In August, ForeverWell groups from 11 local YMCAs participated in a challenge to pack meals for hungry kids at Feed My Starving Children. More than 160 Y members packed 187 boxes of food, or 50,116 meals.
Nancy Danielson, the ForeverWell coordinator at the New Hope Y said one of the volunteers from this project mentioned, "We're not all rich, but we can all do something to help out." Thanks to this volunteer effort, 137 children will have one meal a day for a year.
How to get involved
If you're interested in getting involved with ForeverWell programs at your Y, ask to speak with the ForeverWell coordinator or Group Exercise program manager, or check out the monthly newsletter for upcoming happenings like trips, potlucks and theme days.
And starting in mid-November, many YMCAs will have collection barrels to participate in collecting gifts for Gifts for Seniors—an excellent opportunity to help isolated seniors.