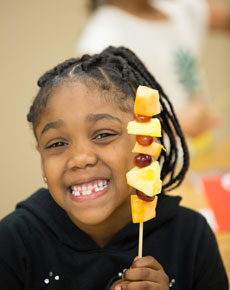 The renowned CATCH curriculum helps kids learn healthy habits.
Studies show that obesity is one of the most serious public health concerns facing Minnesota. To combat this trend and promote overall wellness for children, the Y uses the CATCH (Coordinated Approach to Child Health) curriculum in many of our youth programs. 
An engaging approach to life skills
CATCH provides kids—from preschool to middle school—with knowledge and skills that help them be healthy today and thrive throughout their lives. It presents information about healthy food choices and being physically active in a format that's fun and engaging. For example, CATCH teaches kids to make healthy food choices by putting food in three categories:
GO foods include fruits, vegetables, whole-grains, lean proteins and water. 
SLOW foods are in between, such as sweetened (or flavored) 1 percent milk and refined grains. 
WHOA foods include cookies, candies, soft drinks and fried foods.
According to School-Age Care Site Director, Seanacy Toye, the kids "catch" on quickly. Toye says, "Two weeks ago, I had a new staff member start work. Before I could even begin to explain CATCH to her, the kids in our program were explaining all the terminology and the importance of CATCH. I am so happy that our youth are using CATCH as a benefit to them and for all our well-being."
A proven success
The CATCH curriculum has been around for more than 25 years and serves children in all 50 states. One CATCH study demonstrated that just 60 minutes of physical activity per day can improve math and reading achievement. 
In addition to education about GO, SLOW, and WHOA foods, the CATCH curriculum includes a variety of components, such as:
Movement and physical activities
Hands-on snack preparation
Inclusivity and teamwork
Family fun nights
How can your family CATCH on?
Here are a few ways your family can get started:
Be physically active every day
Eat more GO foods than SLOW foods and more SLOW foods than WHOA foods
CATCH your family members making healthy choices 
Contact your local Y for more information on the CATCH curriculum and how your family can get involved.