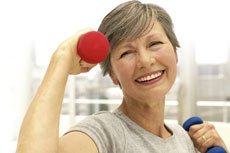 Ages 65 and up can get started with Silver Sneakers Classic class
SilverSneakers® Classic offers a low-impact workout for ages 65 and up that focuses on building strength and flexibility. Group Exercise classes are free for members, and the Y provides all the equipment needed—so all you need to do is show up and get ready to have fun.
What to expect in SilverSneakers Classic classes
This class uses a chair, dumbbells, tubing and ball during the workout. Each class starts with a warm up to get your body ready to move. Then, class moves into strength work, doing exercises that work the upper body, lower body and core.
Next, class focuses on balance exercises, coordination and reflex training, and flexibility moves like stretching to help with range of movement. Class ends with a bit of relaxation.
A unique feature about this class is the use of the chair—participants can do the whole class seated or just some of the class seated.
Why give SilverSneakers Classic a try?
If you're new to exercise, or are looking to get back into exercise, this class is a great place to start. SilverSneakers Classic is designed to help keep seniors active and able to complete the tasks of everyday living.
Come to class to:
Maintain independence with exercises to help you maintain daily-life activities
Improve balance
Relieve stress
Increase range of movement
Help manage arthritis pain and swelling
Sarah Dickhausen, the ForeverWell coordinator at the Southdale YMCA says "This class is a good opportunity to socialize, too. There are a lot of laughs, and participants are very supportive of each other."
If you've never tried SilverSneakers Classic before …
First, you'll want to find a class at your local Y. Once you have found a class, plan to arrive a little early and let the instructor know it's your first time trying SilverSneakers Classic. If you need any modifications or have any concerns, the class instructor can help give you a few options.
During class, be sure to listen to and trust your body. And Sarah suggests that you come to class at least three times to give it a chance—after each class, you'll feel more confident.