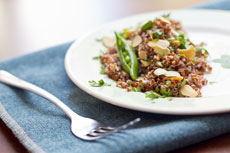 The ingredients in this salad are sturdy enough to stand up to batch preparation techniques—you can serve it for dinner and then eat it for lunch over the next several days. Quinoa is a complete protein, so topping this tasty salad with chicken breast is optional. 
By the Chef Marshall O'Brien Group
4 servings  
Ingredients
1 cup dry quinoa
2 cups water
1 cup sugar snap peas, strings removed (as needed) and chopped
1 cup carrots, peeled and shredded
1 cup tomatoes, chopped
1/2 cup shelled pumpkin seeds or sunflower seeds
2 tablespoons lemon juice
1 tablespoon honey
1/3 cup olive oil
1/4 teaspoon kosher salt
1/4 teaspoon black pepper
1 pound chopped cooked chicken breast, optional. Leftover or rotisserie works well
Directions
Bring water and quinoa to a boil. Cover and reduce heat to low. Simmer until water is absorbed and quinoa is soft, 12-15 minutes.
To prepare vinaigrette, thoroughly mix lemon juice, honey, olive oil, salt and pepper.
Combine quinoa, vegetables and seeds in a bowl.
Toss salad with vinaigrette. Adjust salt, pepper and lemon juice as desired.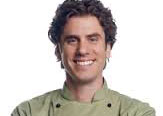 The Chef Marshall O'Brien Group is a dedicated assembly of professionals based in Minneapolis, Minnesota, committed to the goal of using nutrition to get kids and families to lead happier, healthier lives.