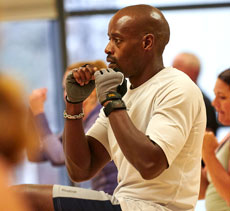 This Group Exercise class blends cutting-edge martial arts movements with energizing music.
Get the double whammy of a strength and cardio workout in Defend Together, using moves from boxing, kickboxing, karate, Muay Thai and functional athletic training.
Group fitness instructor at the Woodbury and St. Paul Downtown YMCAs, Natasha Steblay breaks Defend Together down for those who might be new to this class, "This isn't your traditional aerobics class. It's athletic and challenging yet can be modified for all fitness levels."
Kids ages 10-14 are welcome to attend with a parent or guardian and teens over 15 can attend on their own.
Sneak preview of what to expect
In Defend Together, you will:
Execute interesting punch and kick combinations
Respond to changing rhythms in music
Work core strength without having to do crunches
Build flexibility
Have a blast with your fellow classmates
Class begins with a warm up—an opportunity to get familiar with basic punches. As the class progresses, the moves build and get more intense. Often, there is an element of conditioning built into each session, including exercises like push-ups and abdominal crunches.
There's no special equipment needed for this class. You might want to bring a towel and water bottle.
Why try this class
Regardless of martial arts experience, members can drop into this free class at any time to:
Improve stamina, coordination and balance
Gain greater mental focus
Feel more confident and strong
Reduce stress and have fun
Each individual controls the intensity of their personal workout. There are options to modify things like the height of kicks, whether to jump or shuffle between movements and more.
"You'll walk out feeling tough, exhausted and exhilarated at the same time," says Natasha.