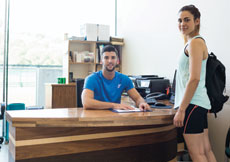 Explore your fitness challenges with a Personal Trainer. 
Feeling stuck in your workout routine? Want to improve your fitness, but aren't sure where to start? Get a personalized Fitness Solution from the Y.
What to expect from a Fitness Solution
A Fitness Solution appointment is a one-on-one, 60-minute meeting with a Personal Trainer where you can:
Discuss your health and fitness goals
Address areas you'd like to improve
Design a custom path to achieve your goals
Learn about equipment (how to use it and adapt it to your body or injuries)
Your appointment will start out as a conversation with your Personal Trainer, but come dressed ready to work out and complete a few physical assessments.
Why get a Fitness Solution
Fitness Solutions are great opportunity for all Y members.
New members: Fitness Solutions are a fantastic way for new members to get introduced to all the Y has to offer. You'll learn the best ways to make the most of your new membership. 
Seasoned members: A Fitness Solution appointment can help you uncover areas you might want to work on. It can also help get you out of a workout rut by discovering new equipment or exercises.
For both new and seasoned members, guidance from a Personal Trainer can help you reach your goals faster.
Schedule your Fitness Solution—for free
To schedule a Fitness Solution, contact Member Services or the Personal Training team. A Fitness Solution appointment is included with your membership at no extra cost. Make an appointment at your local Y today.