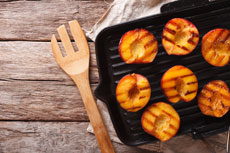 By the Chef Marshall O'Brien Group 
Grilling fruit gives it a caramelized crunchy flavor that's a real summer treat. Experiment with other stone fruits or pears for variety. If the weather isn't great for grilling, you can use the oven broiler for the same effect.
4 servings
Ingredients
4 ripe peaches, halved and pitted
2 teaspoons olive oil
¼ cup Greek yogurt
2 tablespoons honey
1 tablespoon almonds or pistachios, toasted and chopped
½ cup fresh blueberries
Directions
Preheat grill or broiler on high heat.
Brush olive oil on cut side of peaches.
Grill peaches cut side down, or broil cut side up, for 2-4 minutes until slightly softened.
Place a dollop of Greek yogurt in the center of each peach half.
Garnish with nuts, honey and blueberries and serve warm, or at room temperature.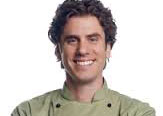 The Chef Marshall O'Brien Group is a dedicated assembly of professionals based in Minneapolis, Minnesota, committed to the goal of using nutrition to get kids and families to lead happier, healthier lives.