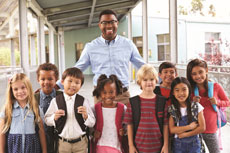 Did you know?
According to the U.S. Department of Health and Human Services, 28 percent of U.S. students in grades 6 through 12 have experienced bullying and at most 30 percent notify an adult
More than 30 percent of young people admit to bullying others in surveys.
Kids who are bullied often experience anxiety, depression and decreased health and academic achievement. Kids who bully others are more likely to engage in risky behaviors like abusing alcohol, engaging in violent behavior or dropping out of school.
Youth can experience bullying year-round – at school, in the neighborhood, online and many other places in the community. The YMCA of the North is committed each and every day to prevent bullying by creating a welcoming, positive environment where all are included and accepted. YMCA youth development programs focus on connecting students from different backgrounds through engaging educational and enrichment activities. Y staff are trained in how to prevent bullying and support youth being bullied. They are available to discuss with parents and guardians one-on-one how they can best support their child based on his/her individual situation.
Here are some tips for preventing bullying for children and youth
Model empathy and connect with people of all backgrounds and experiences. Bullies may target people based on race, ability, or perceived difference. Encourage youth to build relationships with people across differences and to practice considering the feelings and experiences of others.
Encourage specific caring behavior when you see it! Instead of praise ("Good job!"), offer specific feedback on their efforts ("I saw you working really hard to problem solve with your friend even though you were getting frustrated!"). Talk about current events with youth, including examples that model caring and uncaring behavior, and help them consider how they can show caring towards others.
Create opportunities for conversation with youth. Side by side discussion can work better than face-to-face. ry questions like "What is one time you felt great today and one time you felt bad?"  Try not to react immediately but keep your face calm and continue to ask questions if you hear something upsetting.
Be engaged with social media youth is accessing. Limit screen time so young people can have a break from social pressures. If they are on social media, engage with them while they are using it and recognize caring behaviors you see there as well.
Connect your child to more positive adults they can trust. Family members, YMCA camp counselors, sports coaches, and school staff can become additional important adults that youth can confide in if they are being bullied or are engaging in bullying.
Support wellness through practicing mindfulness. Today's complex world and all of the emotions that we experience can be a lot for youth and adults to manage. Take time for wellness and mindfulness for you and your youth. Practice breathing, spending time outside, yoga, or other strategies to relieve stress and calm emotions.
Have direct conversations about bullying periodically. "Do you feel safe at school?" and "Do you know what bullying is? Have you seen it happen or experienced it?" may be important questions for them to hear, even if they don't always give you much of a response.