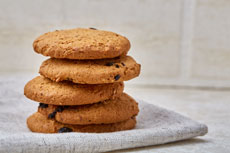 By the Chef Marshall O'Brien Group
Making your own protein snacks is an easy way to ensure more wholesome ingredients and less fillers. Each of these snack rounds provides 12 grams of protein with only 8 grams of sugar.
12 servings
Ingredients
2 cups almond flour
1 cup protein powder*
¼ cup dark chocolate chips
¼ teaspoon kosher salt
¼ cup maple syrup
¾ cup melted coconut oil
1½ teaspoons vanilla
Directions
Preheat oven to 375 degrees. Grease a muffin pan or coat with cooking spray.
In a large bowl, combine almond flour, whey protein, chocolate chips and salt.
In a medium bowl, combine maple syrup, coconut oil and vanilla.
Combine wet ingredients with dry ingredients and mix thoroughly.
Portion mixture into muffin pan. Using a small drinking glass, press mixture into each muffin cup.
Bake until golden brown, about 10 minutes.
Remove from oven and gently press down on each round again.
Cool bars in the muffin pan on a wire rack.
*Choose a high-quality whey or plant-based protein powder that does not contain artificial colors, flavors and other additives.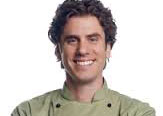 The Chef Marshall O'Brien Group is a dedicated assembly of professionals based in Minneapolis, Minnesota, committed to the goal of using nutrition to get kids and families to lead happier, healthier lives.