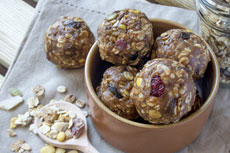 By the Chef Marshall O'Brien Group
These wholesome no-bake snacks are tasty and nourishing and so easy the kids can help make them! Substitute another kind of nut butter or use raisins instead of dried cranberries, depending on your family's taste preferences. 
12 servings
Ingredients
1 large, overripe banana
1 cup dry quick-cooking rolled oats
½ cup unsalted sunflower seeds
1/3 cup dried cranberries
¾ cup natural creamy peanut butter 
¼ cup miniature semisweet chocolate chips
1½ teaspoons vanilla
Directions
In a medium bowl, mash banana with a fork until smooth.
Add oats, sunflower seeds, dried cranberries, peanut butter and chocolate chips and mix well.
Using 1 tablespoon for each bite, shape into 24 balls and place in an airtight storage container, separating layers with parchment or waxed paper.
Chill until ready to serve.
Store in the refrigerator for up to 3 days or freeze for up to 3 months.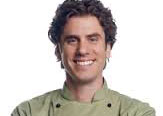 The Chef Marshall O'Brien Group is a dedicated assembly of professionals based in Minneapolis, Minnesota, committed to the goal of using nutrition to get kids and families to lead happier, healthier lives.