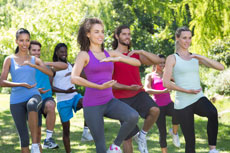 Ramp up your overall wellness by taking time to slow down.
When people think of Group Exercise classes, they often think of high-intensity workouts like aerobics or boot camps. However, the Y also offers classes—like Tai Chi—that provide impressive health and wellness benefits in a calm and quiet way.
To learn more about Tai Chi, we talked to Kimberley Sandberg, a Group Fitness Instructor who has been leading Tai Chi classes at the Woodbury Y for nine years.
What is Tai Chi?
Tai Chi, originally from ancient China, is described as a "moving meditation." Focused on gentle flowing movements, Tai Chi provides exercise for both mind and body.     
"We live in such a fast-paced world, having a healthy relationship with our body in a quiet way is hugely beneficial," Kimberley explains. "You can come to class feeling scattered or stressed and leave feeling ready to face the world." 
Who would enjoy Tai Chi classes?
Tai Chi is practiced by all kinds of people. "Tai Chi is for 'every body' regardless of age or physical abilities," Kimberley says. "You'll benefit whether you're a 20-year-old athlete or a stroke survivor. Even if you're non-ambulatory, you can sit in a chair. It really is for everyone."   
Why give Tai Chi a try? 
A growing body of scientific evidence shows that Tai Chi has a wide range of benefits, including improved: 
Balance and coordination 
Strength
Flexibility 
Memory and cognitive function 
Anxiety and depression symptoms  
Pain relief
Tai Chi also provides a sense of community belonging. According to Kimberley, "Beyond the physical benefits, there is another set of benefits around connecting to other people—caring and watching out for each other."
What to expect in a Tai Chi class
Tai Chi is easy to learn, but provides a lifetime of challenges. Although classes may vary by instructor, Kimberley says classes often include these basic components:
Sharing your name and connecting with classmates 
Doing warm up movements
Watching instructor demonstrate each form and flow piece by piece 
Trying the forms and flows, then repeating them
Take Tai Chi at the Y
Classes are open to all fitness levels. Kids ages 10-14 are welcome to attend with a parent or guardian and teens over 15 can attend on their own.
Tai Chi is a Group Exercise class, which means it's free for Y members. Drop in to give it a try at any time—no registration required. Check out a Tai Chi class today.