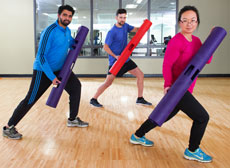 Challenge your body to be as strong as a farm kid in this innovative Group Exercise class.
Inspired by the fitness of farmers who move heavy objects regularly during their daily routines, Conditioning Together (ViPR) combines strength and cardio into a 30-minute class.
According to Colette Ehlers, a Group Fitness Instructor at the Dayton Y, "The class includes movements you don't traditionally do at a gym. It works on actions our bodies were naturally meant to do—from working on the farm to carrying kids and groceries."
What is a ViPR, and how does it work?
A ViPR is a weighted tube with different handle holes. ViPRs are around three feet long come in a variety of weights. 
The name "ViPR" is a combination of the words vitality, performance and reconditioning. During a workout, the ViPR tube is used in a variety of ways to get muscle groups working together. 
It's called "loaded movement training'" says Colette. "We use the ViPR to shift weight away from your body, shift weight towards your body, do uppercuts, stretches—all kinds of ways to challenge your body."
What to expect in a ViPR class
The class is choreographed to music. It starts with stretches followed by small movements with ViPR. As the class progresses, the small movements build into more intense cardio and strength training exercises. 
You can tailor the workout to your fitness level by trying different ViPR weights and changing how far you move the ViPR away from your body. 
"At the beginning, it's not really an intuitive movement—so, the first class can feel kind of weird," Colette explains, "Don't give up. After a few classes you'll get it." 
Why try a ViPR class
There are many benefits to Conditioning Together (ViPR) but Colette says the best part is that, "It's a really efficient way to get a well-rounded workout—you get strength and cardio all in 30 minutes." 
  
Conditioning Together (ViPR) is a Group Exercise class, which means it's free for Y members. Drop in to give it a try at any time—no registration required.