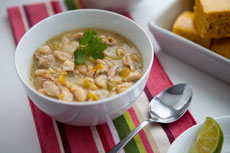 By the Chef Marshall O'Brien Group
Use a slow cooker to make this hearty cool weather meal. It is chockful of flavor, healthy fiber and beneficial spices.
6 servings
Ingredients
1 1/2 pounds chicken breast, diced
4 cups low-sodium chicken broth
4 14.5-ounce cans Great Northern white beans, rinsed and drained
1 cup onion, chopped
1/4 cup garlic, minced 
1 4.5-ounce can diced green chilis
2 tablespoons lime juice
1 tablespoon cumin
2 teaspoons chili powder
1/4 teaspoon cayenne pepper
1/2 teaspoon salt
1/4 teaspoon black pepper
Optional garnishes: diced avocado, finely diced, seeded jalapeño pepper, chopped cilantro, Mexican (or other) cheese shreds, Greek yogurt, tortilla chips
Directions
Mash two cans of beans with a potato masher or blender. 
Place diced chicken breast in bottom of slow cooker, add remaining ingredients and mix ingredients together.
Cover and cook on low for 5-6 hours until chicken is cooked.
Serve with garnishes of choice.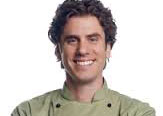 The Chef Marshall O'Brien Group is a dedicated assembly of professionals based in Minneapolis, Minnesota, committed to the goal of using nutrition to get kids and families to lead happier, healthier lives.