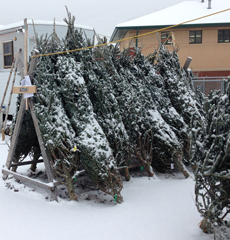 It's time for a great annual tradition—the Y has been selling Christmas trees since 1938. In addition to getting a beautiful tree for your home, your purchase helps fund the scholarship program that sends kids to Y camps.
When you shop a Y Christmas tree lot during normal hours, volunteers will:
Help you pick out a tree
Cut off the bottom of the tree trunk and/or remove lower branches
Assist with carrying and tying the tree to your vehicle
Hours and locations
All tree lots open for business on Friday, November 23.
Burnsville—Burnsville YMCA, 13850 Portland Ave. S.
Open weekdays 6-8pm, Saturdays from 9am to 6pm and Sundays from 10:30am to 4:30pm
Trees can also be picked up outside these hours—visit the front desk at the Y
To volunteer or for more info, call 952-898-9622
Edina—Southdale YMCA, 7355 York Ave. S.
Open weekdays 5-8pm and weekends 10am-7pm
To volunteer or for more info, call 952-435-9017
Minneapolis—Hiawatha Lot, 42nd St. and Hiawatha Ave.
Open weekdays 4:30-8pm and weekends 10am-8pm
Minnetonka—Ridgedale YMCA, 12301 Ridgedale Dr.
Open Fridays 5-8pm, Saturdays 10am-6pm and Sundays 11am to 6 pm
Expanded hours on November 23: 10am- 6 pm
Outside of these hours, the lot is self-service
To volunteer or for more info, contact Steve Coley at 952-582-8245
St. Paul—Highland National Golf Course, 1403 Montreal Ave.
Open Monday - Thursday 3-8pm and 9am-9pm Friday, Saturday and Sunday
Expanded hours on November 23: 8am-8pm
St. Paul—Midway YMCA, 530 N Wheeler (Across the street east from the Y)
Trees and wreaths
Open weekdays 12pm-7pm and weekends 10am-7pm
To volunteer or for more info, call 651-646-4557