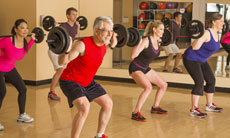 Find out why people get so "pumped up" about a barbell class.
BodyPump is a 60-minute barbell workout that gets rave reviews from participants. To find out what all the buzz is about, we talked to Courtney Raney, BodyPump Group Fitness Instructor at the Y's Maplewood, Eastside and West St. Paul locations.
Why is BodyPump so popular?
According to Courtney, people like BodyPump for several reasons. "First of all, you work all your muscle groups safely and effectively in one session," she explains. "Over time, people transform their bodies and confidence levels. The results are incredible."
Additionally, BodyPump ups the fun factor by choreographing weight training exercises to popular music. Each 60-minute workout has 10 songs or "tracks". Each set of tracks and exercises (called a "release") is used for a few months—allowing participants to master the routine and get the most out the workout. There are four new releases a year.
"There's so much energy at BodyPump, after a few times people get hooked," Courtney says. "People try to do the same type workout when they're gone on vacation, but they can't wait to get back to class." 
What can you expect in your first few classes?
"The people in the class are very welcoming" she adds, "We often assign a mentor—someone who has been doing the class for years—to help a new person get comfortable with the equipment and movements." 
Because BodyPump is an endurance-style class, some people need to work up to completing the whole workout. 
According to Courtney, "Many people do what we call a 'smart-start'. The first day, you just do the first 5 tracks, which is about half of the class. Then, at each subsequent class you add a track until you can do all 10." 
Who is BodyPump for?
"I wish everyone would try this class!" Courtney says. BodyPump instructors are trained to help a wide variety of participants find the right weights and safe techniques for their needs.    
And, the class isn't just for people who want to bulk up. "Sometimes people are worried about taking the class because they don't want to get too big," says Courtney. "But we work on creating long, lean, healthy muscles."
Take BodyPump at the Y
Classes are open to all fitness levels. BodyPump is a Group Exercise class, which means it's free for Y members. Teens ages 15+ are welcome to attend with a parent or guardian. Drop in to give it a try at any time—no registration required.