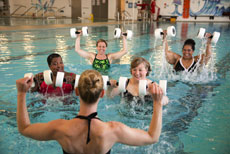 Regardless of age, if you're new to water workouts, this class is a great place to start.
ForeverWell Water Exercise classes offer light to moderate aerobic exercise in the pool. When you work out in the water, you can benefit from the resistance water offers to change your muscles—without putting much impact on your joints.
Class starts with a warm up that will get your large muscle groups moving. Next, you'll move into doing the primary movements that repeat (so it's easy to catch on) and might include using equipment such as pool noodles, water dumbbells or floating boards. Class typically ends with a fun activity to help cool you down.
Tracy Spinks, Program Manager of Group Exercise and ForeverWell at the Hastings Y breaks down the benefits of coming to class:
Good way to get familiar with water workouts
"This is a good class to get familiar with being in the water and how your body moves in it," says Tracy. 
In the water, you can work the body in all directions—up and down, side-to-side and diagonally. For the workout, she suggests that you wear supportive swimwear because you'll be doing a lot of movement in class.
Change the way you feel
During class, you can expect to do exercises that will help you to build endurance and muscle strength, improve flexibility and posture, and increase balance and confidence. If you're new to exercising in the pool, you might feel a bit sore after the first few classes while your muscles adjust to the new movements, however, Tracy says that feeling your muscles after a workout can be a good thing.
"Class can help you feel good and happy on the inside and outside," she says.
Appropriate for all ages
This class was designed with active older adults in mind, however the low-impact nature of this class makes it a great option for exercising if you have joint issues or are pregnant.
Regardless of your fitness ability, the instructor can help you increase or decrease the intensity of the exercises—come a bit early to class to ask about options that will help you make the most of your workout.
Swimming isn't a requirement
Class is conducted in a shallow part of the pool. Tracy says that if you come to class, your head won't go in the water, unless you want it to.
Ready to give it a try? Find a class—they're free for Y members.