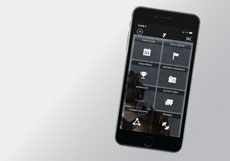 Make the most of your Y experience with the upgraded app.
The YMCA mobile app has recently undergone refresh that's designed to help you maximize your Y membership.
Download the free YMCA MN app
In addition to debuting a new look and offering a simplified way to log into the app (with an email), the app can help you:
Get support for your health and fitness goals
It's easier than ever to find a class—you can see schedules for more than one Y location in a single view, filter by instructors and more
Track your workouts on Matrix machines (treadmills, steppers, ellipticals and bikes), and review your history
Challenge yourself and set fitness goals like number of workouts to do, calories to burn, or distance to complete
Connect with your communities
Check in at your local Y using your smartphone
Store multiple barcodes for your family members in your app
Link with other apps like Nike+, Jawbone and more
Get help with basic requests via chat
"These upgrades create an even more connected fitness experience—and a more streamlined path to healthy living," said Amber Richard, Senior Digital Marketing Director for the YMCA of the North.