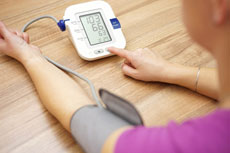 New and available exclusively at the Southdale YMCA in Edina
According to the American Heart Association, more than 80 million adults have high blood pressure in this country—and less than half have it under control. High blood pressure (also known as hypertension) increases the risk of heart disease and stroke.
Hypertension is considered a "silent killer" because often there are no obvious symptoms. That's why it's so important to regularly check your blood pressure, and keep track of it over time.
If you have been diagnosed with high blood pressure, the new Blood Pressure Self-Monitoring program at the Southdale YMCA is now available to help you:
Reduce blood pressure
Improve blood pressure management
Learn about triggers that can elevate blood pressure
Eat healthier
Program basics
During the program, a Healthy Heart Ambassador from the Y will offer ongoing support and guide you through the proper techniques to help you develop a successful habit of checking your blood pressure at home.
Additionally, you'll attend an educational nutrition seminar—think shopping tips and recipe modifications—each month, visit your Healthy Heart Ambassador twice a month and connect with them regularly via phone or email.
If you are 18 or older, you're welcome to participate in the Blood Pressure Self-Monitoring program—Y members and the public are welcome. YMCA members get a discount on the cost of the program. While participating in the program, members of the public can enjoy Y membership.
The program lasts for four months and you can join at any time.
Take action today
February is American Heart Month—a great time to pause and consider how you're caring for your heart. Joining the Blood Pressure Self-Monitoring program is an easy step to show your heart some love.
The Southdale Y is the first location in Minnesota to offer the program, however, the more than 7,000 people who have participated at other YMCA locations around the country have seen an average decrease of 11.3 points on their systolic blood pressure and decrease of 6 points on their diastolic blood pressure.
Contact Diane Schroeder, Senior Program Coordinator at 952-582-8293 to learn more and get started.