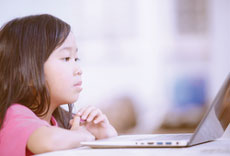 If you feel like you're in a rut with everyone at home, try changing things up with these ideas. 
With working from home and distance learning part of most everyone's life this year you might have already taken some steps to ensure you and your family are set up for success. Most experts recommend that you create a dedicated space to work or complete school activities and that you establish routines that mimic "normal" life—such as getting dressed or taking a lunch break.
As circumstances continue that require ongoing remote education and work, there are few more tips you can try to elevate your experience:
Keep your space separate
Once you have a setup that enables your work or school to continue:
Ensure your space stays dedicated. Try to avoid letting your home office transition into the new room for folding laundry.
Maintain boundaries. When schoolwork is done for the day, take the necessary steps to transition the area back to the family's dinner table.
Connect as a family
With more time and experience working and learning remotely, things are bound to evolve—and it's important to keep talking about these changes.
Consider dedicated checkpoints. Schedule a time each day or each week to run through a list of questions together. Having tech issues on a regular basis from everyone sharing a single connection? Missing collaboration? Having trouble feeling productive? Create a space to work through each item on the list together.
Go beyond troubleshooting. Although it might be tough at times to make it through a workday or a school day, try to make time for sharing experiences with each other. Did you learn something new? Figure out a cool new trick for web conferencing? Wear a new outfit? Feel good about celebrating these milestones.
Change your scenery
Kids and adults typically change location throughout the day—from classroom to classroom or from meeting room to office desk. 
Try a flow. Consider moving to different areas for different tasks. For example, perhaps math homework is done at a desk in a child's bedroom, but reading assignments are completed in the living room chair.
Post up somewhere new. If you've had enough of home, head to select YMCA camps to work and learn remotely, with the option to participate in enrichment programs.
While tips and ideas can be a great place to start, or experiments to try, remember that every family is different, and the most important thing is to do what works for yours!