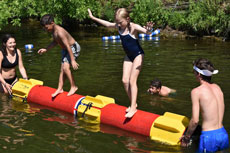 Days and evenings are filled with fun at each of the YMCA's four overnight camp locations.
Whether you loved summer camp as a child, are exploring your child's readiness for overnight camp, or are looking to create a magical experience for your child this summer—YMCA of the North's four overnight camps are the perfect place to try new things and make lasting friendships. Registration is now open for the summer 2021 overnight camp season.
Lauren Ott, Program Director at Camp Icaghowan and Jana Graczyk, Program Director at Camp Warren provide a closer look at what an overnight camper's experience during traditional camp typically includes:
Traditional camp activities
During the summer, camps offer both traditional and specialty tracks. While specialty camps allow participants to spend more time on a favorite activity (like horse riding) or a wilderness trip/adventure, all campers have the opportunity to participate in classic camp activities like:
All-camp games
Arts and crafts
Boating (canoe, kayak, paddleboard)
Campfires
Climbing
Nature
Swimming
Talent shows and skits
Target sports
Lauren says, "Everyone has the opportunity to try new things at camp—regardless of their age." Jana elaborates, "There is a lot of structure to the day, but autonomy is built into the schedule—kids have a lot of choices."
General structure for the day
Although each camp has unique features and personality, all four locations include the same general components of spending time with their cabin group (by age), enjoying family-style meals, taking time for reflection and enjoying activities.
The flow of the day goes something like this:
Wake up with optional morning activities such as "polar bears"
Flag raising / morning ceremony
Breakfast
Community gathering
Break into smaller groups for activities
Lunch
Rest hour
Break into smaller groups for activities
Dinner
All-camp activity
Evening reflection with cabin group
Lights out
For more detail, check out a sample schedule from Camp Icaghowan.
Supervision at camp
Jana and Lauren often get questions about this, and share there is always an adult—an individual 18 years or older and having completed a background check—around. The ratio for adults to campers is determined by activity—whether campers are on land or in the water. Throughout the day and during the night, age-based cabin groups include trained counselors.
The impact of COVID-19
The safety of YMCA campers and the surrounding community in which camps are located has always been a top priority for the Y. Because of this, the Y had to make a tough decision to cancel overnight summer camp in 2020.
For 2021, the Y plans to offer overnight summer camp. With almost a year spent planning and preparing, the Y has worked closely with the Centers for Disease Control and Prevention, state government and health officials, the American Camp Association and Y-USA to create a safe path forward for 2021 summer camps.
Based on guidance from these agencies and leading health experts, camp modifications might include:
Smaller group sizes for sleeping quarters and activities
Requirements for campers to complete prior to coming to camp
Ventilation in cabins and gathering spaces
Mask requirements
Jana stresses, "The health, safety and wellness of campers and staffers is our top priority, so our plans and protocols are being updated every day as we approach the summer camp season."