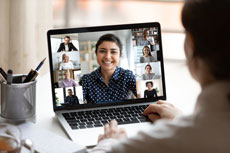 Staying active mentally, physically and emotionally is important for feeling your best—especially when it's not possible to get out and see people or complete usual activities.
Here are four ideas to help maintain connections with your friends and family during COVID-19:
1. Try new technology
Video calling saw a huge rise in 2020 as more people were physically away from work, family and friends. Learn how to use Zoom video calling with this short video. Once you have Zoom or another option like Skype or WhatsApp, try getting a small group together for a video call. 
2. Vacation virtually
Consider inviting a friend to take a virtual vacation. You could each complete the online trip and then schedule a video call to discuss—instead of a book club, it's a trip club! You can find lots of options by doing an online search for "virtual vacations," or try one of these options:
3. Join an online class or activity
The YMCA is offering a variety of online options—from social opportunities to workouts to educational seminars. You'll have an opportunity to interact online with your fellow attendees. Explore the possibilities with ForeverWell events in the online Activity Finder.
4. Plan a socially distanced outdoor activity
According to Mayo Clinic, an outdoor activity that allows you to stay at least six feet away from a friend is considered low risk. Whether you plan a walk or cross-country skiing, get prepared for your next outdoor adventure.