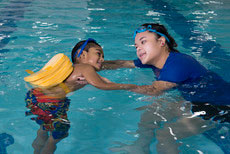 Refresh your understanding of some key water-safety tips
May is National Water Safety Month, and in Minnesota, it arrives at a perfect time—just before the weather warms enough for outdoor water fun. In the coming weeks, you and your family might be preparing to:
Enjoy a kiddie pool during a backyard barbeque
Visit a playground, park or cabin near a lake or river
Cool off at a neighborhood pool
No matter where you're headed, or whether you are planning to swim, water safety should be on your mind—especially during the summer. Shannon Kinstler, senior association aquatic director for YMCA of the North suggests that you run through this short checklist for water safety:
Who is supervising what?
It is critical to have clarity on who is watching each person, or the body of water. For example, you might have a person—one who isn't distracted by a device—assigned to watch each child, or a person assigned to watch the water.
Shannon shares that most drownings happen when everyone thinks that someone else is watching—but nobody is. "Even if there are lifeguards present—they are a layer of protection, not supervision. It's still essential that you have dedicated, focused watchers in your group," she says.
What is going on in the surroundings?
Is there a fence around the water? If there is a gate, is it shut and secure? Even if a kiddie pool is OK for everyone in your family, is it safe for your neighbors if your yard is open?
Would a ladder on an above-ground pool provide access to those who shouldn't enter the water if you step away—even for just a minute? Shannon encourages everyone to take away ladders when one of these pools is not in use
Are there distractions in or near the water—think pets, weeds, currents, boats, mud, sticks or sandbars? These types of distractions can make it easy to get into water that's beyond an individual's abilities. It's also important to swim only where you know it's safe—that means in dedicated swim areas.
How well can everyone here swim?
For anyone who cannot swim confidently and successfully on their own—they should be wearing a personal flotation device that is approved by the U.S. Coast Guard for the type of water you are in, and they should remain within arm's reach of an adult who can swim.
"Excitement, tiredness, and injury can have an impact on swim abilities. Someone could normally be a great swimmer and be impacted by their current state to need more help than usual," says Shannon.
For those looking to build or improve swimming skills, Swim Lessons at the YMCA are a great option.