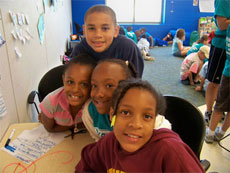 The YMCA of the North, a leading nonprofit dedicated to strengthening communities through youth development, healthy living and social responsibility, provides support and resources to help Minnesota youth aging out of the foster care system to be successful and thrive independently in a safe and stable environment.
Each year, approximately 2,000 Minnesota youth "age out" of the foster care system.
Thirty-eight percent of these young people do not have a plan to get health insurance, a job, housing or a driver's license.
Studies show that youth who have spent time in foster care often face barriers when seeking education, employment or housing. For example, 50 percent of young people who have experienced homelessness have also been in foster care.
"At the Y, we are committed to strengthening our community by addressing the barriers young people face," said Matt Kjorstad, YMCA executive director. "Our Youth Intervention Services team provides outreach in a variety of ways to offer support and help young people who have been in foster care gain safe housing, secure employment, achieve academic success, learn self-sufficiency skills and enjoy a healthy lifestyle."
Kjorstad explains that in Minnesota, young people may opt to continue to receive some foster care services until they are age 21. The YMCA serves this population with the 24/7 Life Coaching program. This service connects young people ages 17 to 21 in Hennepin and Anoka counties, who are either involved in extended foster care or who have left care and need ongoing support, to a helpful life coach who assists them in identifying and reaching goals. Life coaches also work with young people to gain independent living skills like budgeting, cooking, writing a resume or securing independent housing.
The YMCA connects young people who have experienced foster care not only to resources, but to a network of caring adults who can help them build skills for the future through a variety of resources. Other programs that address the needs of this population include:
Girls Services, a program serving girls ages 12 to 17 in Hennepin County who have been involved in foster care or the juvenile justice system who experience high levels of trauma or exposure to sexual exploitation
Independent Living Skills, a collaboration between community agencies and YMCA staff to coordinate, plan and deliver workshops on crucial self-sufficiency skills like budgeting, healthy cooking and safe relationships
Pipeline to Leadership, a program to help young people who are or have been in foster care to develop their skills to be leaders and advocate for change in the foster care system for future youth
Discover how the Y's life coaches helped Jermeisha gain employment so that she can support her children and pursue her dreams – watch Jermeisha's Story.
Learn how Eric, who has lived in over 50 foster homes, found consistency in the Y's program, which gave him the skills and support he needed to secure housing and reach his potential – hear Eric's Story.
YMCA Youth Intervention Services provides a variety of programming to meet the needs of youth facing barriers, including academic support, employment programs, enrichment opportunities at the YMCA, and life coaching. In addition to programs serving foster care youth, the YMCA offers assistance to youth experiencing homelessness, involvement with the juvenile justice system or other barriers. Among these services is the Youth Resource Line, a free resource staffed seven days a week by Y team members to assist youth ages 12 to 23 who are in need of community resources: 763-493-3052.
Y Give Week: November 8-14
Y Give Week, November 8-14, offers people in the community the opportunity to give back to their neighborhoods by donating to the Y and providing young people with access to life-changing resources, safe spaces, education and enrichment opportunities and more. People can text YGIVE to 41444 to give easily and help strengthen programming and services until all can thrive.
Because the Y is a leading nonprofit committed to helping all young people thrive, financial assistance is available to those in need. With the generous support of community members, the Y ensures that all have the opportunity to participate in enriching programs. Learn more about the Y's .