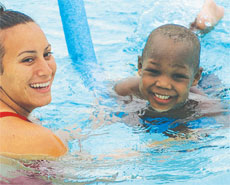 According to the World Health Organization, drowning is the third leading cause of unintentional injury death worldwide.
Safe Kids Worldwide reports that 88 percent of kids who drown do so under adult supervision.
Data from the USA Swimming Foundation shows that 70 percent of African American and 60 percent of Hispanic children cannot swim, compared to just 40 percent of Caucasian children.
The YMCA of the North, a leading nonprofit dedicated to strengthening communities through youth development, healthy living and social responsibility, provides proven programs to develop swimming and water safety skills for all.
With thousands of lakes and rivers in Minnesota, it is critical that kids and their families are secure around water. To help community members stay safe, the Y offers programming for all ages and abilities to build skills and confidence in the water. However, studies show that kids, minorities, low-income families and people who don't have access to water have much higher statistical incidence of drowning. With the help of community partners, the Y is working to bring swimming and water safety experiences to all in the Twin Cities.
"At the Y, we are saving lives," said Shannon Kinstler, director of aquatics for the Y.  "When we watch a child get in a pool for the first time and receive some expert instruction, they come out with confidence. We're not only changing their feeling about water, we're helping to shape their lives." 
Kinstler added that the Y offers several types of programs to engage communities around water safety, including:
Free water safety lessons in partnership with organizations like Abbey's Hope, Delta Air Lines and Hawkins Inc. at Ys and community locations to bridge cultural and access gaps that can prevent some children from learning important water safety skills.
Swimming lessons for all ages and abilities, including group, one-on-one or adaptive lessons to meet individual needs.
Competitive swimming teams for kids ages 6 and up to learn the fundamentals of swimming and experience positive competition in a team environment. Swimmers of all abilities are welcome to participate; the only requirement is the ability to swim 25 yards without stopping.
Free group water exercise classes for Y members of all ages to complete aerobic workouts in the pool.
Lifeguard certification training to prepare people ages 15 and up with the knowledge and skills to prevent, recognize and respond to aquatics emergencies.
See how the Y's partnership with Abbey's Hope and Hawkins Inc. provides life-changing and lifesaving lessons for thousands of kids across our community – Keep Kids Safe in the Water.
Discover how adaptive swimming lessons helped Samuel gain the skills he needs to have fun in the water with his family – Samuel's Story. 
Learn how joining the swim team at the Y helped Amber gain confidence and practice a lifelong skill – Amber's Story.
The Y has been a leader in providing swim lessons and water safety for more than 160 years, helping youth and adults from all backgrounds stay healthy, confident and secure in the water. By providing opportunities for swimmers of all ages and abilities to develop their skills and by partnering with others in the community to eradicate disparities around access to water safety education, the Y changes – and saves – lives. Because the Y is a leading nonprofit committed to helping all learn, grow and thrive, need-based financial assistance is available.