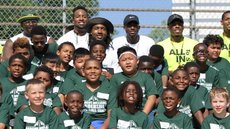 The YMCA of the North (YGTC), a leading nonprofit dedicated to strengthening communities through youth development, healthy living and social responsibility, will partner with New York Jets cornerback Marcus Williams to host his second annual Leadership Football Camp in North Minneapolis.
The camp is free and open to youth ages eight to 12. Campers will attend one "Lessons for Life" session in early June as well as the one-day football camp on Saturday, June 24. Marcus Williams grew up in Minneapolis and spent much of his time at the North Community YMCA as a kid. He is excited to be giving back to his community and giving youth an opportunity to build character and learn about leadership, sportsmanship and teamwork.
"The YMCA believes that sports are a vehicle for broader life lessons," said Glen Gunderson, president and CEO of the Y. "We are thrilled to partner with Marcus Williams to give even more young people in our community a unique opportunity to learn and grow and develop relationships with positive role models."
Last year's camp served 120 young people and this year can accommodate up to 200. Williams will be joined by other NFL players and YMCA coaches. Registration is open now until May 26 – learn more by visiting the YMCA Twin Cities Facebook event.
WHO:
YMCA of the North and Marcus Williams
WHAT:
Marcus Williams Leadership Football Camp
WHEN AND WHERE:
Lessons for Life:
Shiloh Temple International, 1201 W Broadway Ave in Minneapolis, MN 55411
Saturday, June 3 and 10 from 9 a.m. to 11 a.m.
Harold Mezile North Community YMCA, 1711 West Broadway Ave in Minneapolis, MN 55411
Saturday, June 17 from 9 a.m. to 11 a.m.
Football Camp:
Fairview Park, 621 N. 29th Ave. in Minneapolis, MN 55411
Saturday, June 24 from 9 a.m. to 3 p.m.