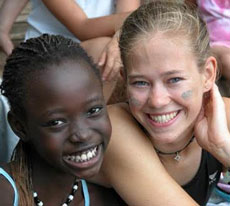 The YMCA of the North (YGTC), a leading nonprofit dedicated to strengthening communities through youth development, healthy living and social responsibility, provides meaningful outdoor experiences and nature education all year long at its day and overnight camps.
Many young people in the Twin Cities area do not have the opportunity to experience nature near their homes. At YMCA camps, kids and teens of all backgrounds have opportunities to engage with the outdoors and learn new skills like canoeing, climbing, sailing and cooking. By pushing outside their comfort zones in a safe, supportive environment, campers also build confidence and grow as leaders along the way.
"YMCA camps give kids space to learn, grow and explore," said Glen Gunderson, president and CEO of the YGTC. "We use the outdoors as a classroom to teach leadership; we work to ensure youth from all backgrounds have opportunities to participate."
Among these campers are participants in the Boys and Girls Outdoor Leadership Development program (BOLD/GOLD). The BOLD/GOLD program brings students from all backgrounds together to learn about nature and experience new outdoor challenges as a team. BOLD/GOLD campers spend three summers at Y camps, taking on progressively longer trips on trail and developing as leaders. For many, it is their first time away from the city and learning outdoor skills.
Campers participating in all programs experience nature and learn about the animals, bugs and plants they will find in the woods or water. Many Y camps offer additional outdoor education opportunities year-round for schools and other groups from September through May. This hands-on learning experience allows kids to engage with and become stewards of our environment.
Discover how the YMCA provides outdoor education all year long at camp – Environmental Education at YMCA Camp. 
Learn how camp provides unique leadership development opportunities – YMCA Boys and Girls Outdoor Leadership Development. 
See how camp has made a difference in one youth's life – YMCA Outdoor Leadership Development: Destiny's Story.
For more than 100 years, YGTC camps have offered an enriching experience with caring counselors who allow campers to safely explore the outdoors. The Y offers 10 day camps throughout the metro, four overnight camps in Minnesota and Wisconsin, and two teen wilderness camps and two family camps in northern Minnesota. To ensure that everyone has an opportunity to participate, need-based financial assistance is available. Learn more about the Y's camp programs.