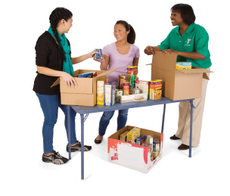 St. Paul, MN – The YMCA of the North, a leading nonprofit dedicated to strengthening communities through youth development, healthy living and social responsibility, will host its Sliced! Food Shelf Cooking Challenge in the learning kitchen at the St. Paul Midway YMCA on Tuesday, August 22.
Participants will compete on teams in the style of Chopped and Worst Cooks in America for the title of Sliced! champion and hear inspiring stories from restaurateurs who overcame housing instability. In addition, they will experience presentations from local chefs and restaurant owners on knife skills, food handling, general kitchen safety, planning healthy meals with limited resources, and finding career opportunities in the culinary industry.
"The YMCA is committed to a food philosophy whereby we are intentional about the impact of nourishment on our bodies and life for all in our community," said Greg Waibel, chief operating officer for the Y. "This event brings cooking and nutrition education to young people and encourages them to explore new ways to improve their health and well-being."
WHO:
YMCA of the North
WHAT:
Sliced! Food Shelf Edition
WHERE:
St. Paul Midway YMCA Learning Kitchen at 1761 University Ave W in St. Paul, MN 55104
WHEN:
Tuesday, August 22, 2017 from 3:00 p.m. – 6:00 p.m.