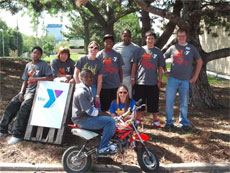 Brooklyn Park, MN – The YMCA of the North, a leading nonprofit dedicated to strengthening communities through youth development, healthy living and social responsibility, will host the 41st annual National Youth Project Using Minibikes (NYPUM) Rodeo in conjunction with local law enforcement and community partners on Tuesday, August 29.
NYPUM has been connecting youth facing barriers to a healthy peer group and positive adult role models for more than 40 years, demonstrating its value by motivating youth to make positive choices in their daily lives. The program also seeks to break down walls between youth and local police. Young people ages 10 to 17 who have participated in the program this summer will have the chance to show off their skills on dirt bikes. 
"The YMCA is proud to be part of this national program impacting youth by integrating positive youth development, intentional goal setting and behavior modification," said Glen Gunderson, president and CEO of the Y. "Young people in the program have the opportunity to connect with their communities while learning exciting new skills."
WHO: 
YMCA of the North along with local law enforcement and community partners
WHAT:
41st Annual NYPUM Dirt Bike Rodeo
WHERE:
10407 West River Road in Brooklyn Park, MN 55444
WHEN:
Tuesday, August 29, 2017 from 5:30 p.m. – 7:00 p.m.