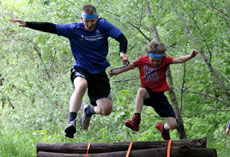 Bloomington, MN – CycleHealth, now part of the YMCA of the North, a leading nonprofit dedicated to strengthening communities through youth development, healthy living and social responsibility, will host its Resilinator adventure race for buddy pairs Sunday, October 29, at Hyland Lake Park Reserve in partnership with the Three Rivers Park District.
For the first time, kids have a shorter life expectancy than their parents due to factors such as a sedentary lifestyle and declining participation in organized sports. CycleHealth aims to change this with fun, challenging and unique activities like the Resilinator race. Buddy pairs race through fun and challenging obstacles to earn capes, medals and prizes. Buddies can be friends, siblings or a child with a parent, mentor, grandparent or coach.
"Pediatricians across the Twin Cities prescribe CycleHealth programs and events, including the Resilinator, to help kids get active," said Glen Gunderson, president and CEO of the Y. "The YMCA and CycleHealth are proud to provide unique wellness opportunities for kids with the support of partners across our community."
 
WHO:
YMCA of the North CycleHealth and the Three River Parks District
 
WHAT:
Resilinator by CycleHealth
 
WHERE:
Hyland Lake Park Reserve at 10145 Bush Lake Road in Bloomington, MN 55438
 
WHEN:
Sunday, October 29, 2017
Racing begins at 1:00 p.m.