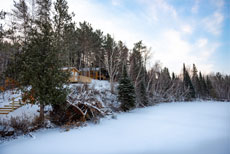 Minneapolis, MN – The YMCA of the North, a leading nonprofit dedicated to strengthening communities through youth development, healthy living and social responsibility, recently purchased Timberwolf Lodge and Northern Lights Lodge and Resort on Bear Island Lake in Babbitt, Minnesota, to create the Y's second family camp named YMCA Camp Northern Lights.
The new family camp located at 9089 County Highway 21 North in Babbitt will continue the YMCA's 162-year tradition of creating access to nature through meaningful outdoor experiences. The YMCA operates eight overnight camps and 10 day camps in Minnesota and western Wisconsin.
"With YMCA Camp Northern Lights, we are ensuring the Y continues to serve our community with great outdoor experiences for all to enjoy," said Glen Gunderson, president and CEO of the YMCA of the North.  "The YMCA is committed to providing everyone opportunities to get away from daily distractions, unplug and enjoy nature year-round."
Gunderson added that the new YMCA Camp Northern Lights features two nice swimming beach areas, an excellent fishing lake and 22 beautiful lakefront cabins with full kitchens and bathrooms, and decks and/or screened porches. The Y will be adding eight new tent sites, four new bungalow cabins, several new program spaces, a nursery, an arts and crafts building, and large and small group campfire spaces.
The YMCA Summer Family Camp program offers three, four and seven day options. Camp staff lead age-specific programming for a portion of the day and all-family programs in the afternoons and evenings. In addition to family camp, teens 15-18 years old can develop valuable leadership skills through a two-week program that provides hands-on training assisting camp counselors and facilitating programs.
During the school year, YMCA Camp Northern Lights has seven winterized, cozy cabins that are available for a Book Your Own Getaway experience. Families and groups can enjoy groomed ski trails, snowshoeing, hiking and other outdoor adventures.
Learn more about YMCA Camp Northern Lights and how to register for camp programs.
About the YMCA of the North
The YMCA of the North is a leading nonprofit dedicated to strengthening communities through youth development, healthy living and social responsibility.  Established 161 years ago, the Ys provide life-strengthening services across the greater Twin Cities metro region, southeastern Minnesota and western Wisconsin communities. The 29 Y locations and program sites, eight overnight camps, 10 day camps, and more than 90 child care sites engage more than 350,000 men, women and children of all ages, incomes and backgrounds.  To learn more about the Y's mission and work, visit www.ymcamn.org.