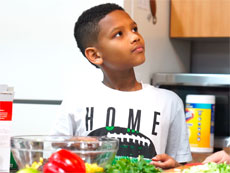 According to the World Health Organization:
Worldwide obesity has nearly tripled since 1975.
Overweight and obese children are more likely to develop diabetes and heart disease at a younger age.
Supportive environments and communities are fundamental in shaping people's choices and preventing obesity. Individual responsibility can only have its full effect where people have access to a healthy lifestyle, and are supported to make healthy choices.
According to the Centers for Disease Control and Prevention:
In the United States, 1 in 7 low-income, preschool-aged children is obese.
According to the National Institute of Mental Health:
20 percent of youth ages 13-18 live with a mental health condition.
50 percent of all lifetime cases of mental illness begin by age 14 and 75 percent by age 24.
The YMCA of the North, a leading nonprofit dedicated to strengthening communities through youth development, healthy living and social responsibility, is collaborating with the University of Minnesota's School of Public Health on Finding Your Y,
an evidence-based health intervention pilot program that addresses the growing concern of childhood obesity by applying a model of family resilience to health and wellness programming.
While conventional approaches to obesity prevention operate within a problem-focused paradigm, this program's approach emphasizes mindfulness and resilience, and creates opportunity to understand childhood obesity through a lens of positive emotional wellbeing.  The Finding Your Y pilot program engages families residing in two of the YMCA's Neighborhood Centers.
"Minnesota is home to some of the greatest disparities in the nation relating to poverty and increased health risk," said Glen Gunderson, president and CEO of the YMCA. "YMCA Neighborhood Centers serve families where they live and help connect members to the resources they need to facilitate a path out of poverty. While these families may have unique barriers to healthy eating due to limited financial resources and environmental constraints, mindful awareness and mindful eating practices are accessible across a wide range of income levels, ages and cultures."
The eight-week programs at Montreal Courts and Briarhill Neighborhood Centers include both a youth and a family program. The youth program offers a healthy living and mindfulness curriculum for children ages 5-12 that aims to increase children's mindful awareness, strengthen mindful eating practices, and increase culturally relevant and sensitive nutritional knowledge. The family program focuses on social connectedness, mindfulness, culture and community.
The goal is to create and sustain a program that engages Y families in a meaningful way.
Discover how positive emotional wellbeing can tackle obesity issues -  Finding Your Y
See how youth are participating in healthy living and mindfulness curriculum - Finding Your Y Program at YMCA Neighborhood Centers
Learn how families are focusing on culture and community - Families Finding Their Y
Because the Y is a leading nonprofit committed to helping all have the opportunity to participate, financial assistance is available to those in need. Learn more about the Y's programs.