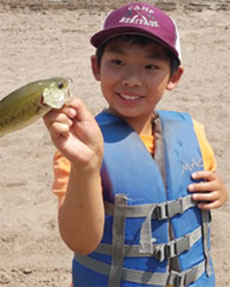 Research shows without access to out-of-school physical and learning activities, kids fall behind academically and gain weight twice as fast during the summer than the school year.
YMCA summer camp supports the social-emotional growth, cognitive development and physical well-being of kids, and provides an environment where kids can belong, build relationships and realize their potential.
The Centers for Disease Control and Prevention states children ages 8-10 spend almost six hours a day in front of a screen using entertainment media.
The YMCA of the North, a leading nonprofit dedicated to strengthening communities through youth development, healthy living and social responsibility, encourages youth to get outdoors through camp experiences and nature-focused curriculum.
Research shows proximity, views and daily exposure to nature settings increases children's ability to focus and enhances cognitive abilities. The YMCA supports a positive relationship with the outdoors by introducing the importance of nature, understanding the connection between personal behavior and environmental sustainability and taking action to preserve and protect the environment. However, many communities have limited access to the benefits of nature and the Y works towards narrowing the nature gap within Twin Cities communities by providing opportunities for all.
"The YMCA is committed to providing everyone meaningful outdoor experiences away from TV and computer screens and enjoy nature," said Glen Gunderson, president and chief executive officer for the YMCA of the North. "The Y is asking the community to 'Get Outdoors' as part of the Y's nature initiative to combat nature deficit. Camp experiences are a great way to spend time and have fun at local and statewide beautiful parks, lakes, rivers and much more."
Gunderson added it's imperative that kids stay engaged socially, physically and academically throughout the summer. Summer camp experiences ensure an environment where youth feel welcomed, build relationships, develop character and discover their potential. 
YMCA camps provide opportunities to meet new friends, learn new skills and connect with nature through meaningful outdoor experiences. Gunderson added five reasons youth should attend camp:
Adventure: Camp is all about a wide variety of new experiences, and especially exploring the outdoors. YMCA camps have a new adventure for every child and teen. 
Healthy Fun: Day and overnight camps offer fun, stimulating activities that engage the body and mind, and also help children and teens learn the importance of nutrition to help improve their eating habits.  
Personal Growth: While in the welcoming environment of camp, youth are encouraged to learn new skills, and develop confidence and independence by taking on new responsibilities and challenges.  Camps offer cognitive learning and social-emotional development opportunities for achievement. 
Friendships: Amidst the fun of camp games, songs, swimming, canoeing and talent shows, campers meet new friends and strengthen existing friendships. The bonds formed at camp are important and lasting for many youth.
Memories: Camp is an unforgettable experience that will give each camper memories and instill camp traditions that will last a lifetime. Youth return to school with plenty of camp stories to share.
The Y is one of the largest providers of camps in Minnesota and western Wisconsin, offering programs that meet the diverse needs of children, teens and families.
Mobile Day Camp offers activities such as nature hikes, fishing, canoeing and environmental education by providing access to meaningful outdoor experiences to youth from urban communities near their neighborhood.
Day Camp provides campers days filled with meeting new friends, learning new skills and connecting with nature through meaningful outdoor experiences and realize the magic of camp before spending the night away from home.
Overnight Camp offers youth opportunities to form lifelong friendships, a sense of self and community, an appreciation of nature and new skills through challenging and fun activities. 
Teen Wilderness Camp has teens start in base camp then head out on canoeing, backpacking and rock climbing adventures focused on respect and values that build life skills. 
Family Camp offers sessions for the entire family that provide a special time away for strengthening family bonds and traditions. Family weeks or weekends become lifelong memories to share for generations.
Discover how the YMCA brings Mobile Camp to youth near their home – Bringing Camp to Your Neighborhood
Learn why youth should attend camp – Why Go to Camp?
Watch how Jalen gains a life-changing experience at camp – Jalen's Story
Along with the Y's camp experiences, there are a variety of other options for the community to get in touch with nature including: self-guided walking tours at camps, field trips, outdoor fitness classes, outdoor play areas at YMCA child care centers and more.
Because the YMCA is a leading nonprofit committed to helping all young people and their families thrive, financial assistance is available to those in need. To learn more about the Y's programs, please visit ymcamn.org.