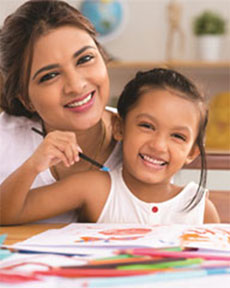 At YMCA Early Childhood Learning Centers (ECLC), 98 percent of students with at least one year at Y ECLCs surpass school district kindergarten readiness standards. 
Research shows cognitive flexibility scores were lower, on average, for children who had no regular early care and education arrangements the year before kindergarten and for those whose primary arrangements were home-based relative care than for children who primarily attended center-based care. 
The American Academy of Pediatrics states play allows children to use their creativity while developing their imagination, dexterity, and physical, cognitive, and emotional strength and it is through play that children, at a very early age, engage and interact in the world around them. 
The YMCA of the North, a leading nonprofit dedicated to strengthening communities through youth development, healthy living and social responsibility, gets kids ready for school through the learning through play teaching method at its Early Childhood Learning Centers. 
Research shows children who primarily attended day care, preschool and other types of center-based care in the year before kindergarten earned higher scores in math and reading and had stronger learning and cognitive flexibility skills than their peers who had no such early care and education arrangements. YMCA Early Childhood Learning Centers provide quality, affordable and nurturing full-day childcare and education for children age six weeks to five years, focusing on developing their intellectual, social, emotional and physical skills. At Y Early Childhood Learning Centers (ECLC), 98 percent of students with at least one year at Y ECLC's surpass school district kindergarten readiness standards.
"The Y is committed to preparing every child for kindergarten and letting them explore their world and learn through play," said Glen Gunderson, president and CEO of the YMCA for the Greater Twin Cities. "Our team of child care experts meet the needs of every child to ensure they thrive in their next stage of life."
Gunderson added that the YMCA Early Childhood Learning programs are rooted in the Y's core values of caring, honesty, respect, responsibility and equity. From those basic values comes a childcare experience designed to develop a child's potential through creative, intellectual, emotional, social and physical skills while they grow. The Y's Learning Through Play method is based on children learning through interaction and exploration because playing is learning.  
Young children learn best through play and interaction. The Y uses The Creative Curriculum ® as the learning foundation to create the best programs with purposeful educational activities designed to:
Stimulate critical thinking skills
Develop creativity
Enhance learning
Develop language skills
Develop problem-solving skills
Develop communication effectiveness
The Y's Early Childhood Learning programs, which have earned national accreditation by the National Association for the Education of Young Children (NAEYC), is 4 Star Parent Aware and licensed by the State of Minnesota, give kids the chance to explore freely through:
sensory activities that help with math and science comprehension 
arts and humanities projects that develop fine motor skills
physical activities and nutritious food to encourage healthy habits
swimming and water safety classes in a safe aquatic environment
enrichment opportunities, including music & movement classes and an introduction to languages like Spanish or American Sign Language
These activities help to develop skills like critical thinking, communication and creativity. The Y offers a warm and welcoming environment in which every child can thrive. Most importantly, children have a place to grow with the guidance of caring adults while their parents are at work.
Learn more about how YMCA Early Childhood Learning Centers prepare children for school - Getting Kids Ready for School
Discover how YMCA Early Childhood Learning Centers set the foundation for school success – Prepare Your Child for Kindergarten
Find out more about the importance of play in learning - Why Do Kids Play?
There are currently 12 YMCA Early Childhood Learning Centers including two new centers in Lakeville and Rochester. 
Because the YMCA is a leading nonprofit committed to helping all young people and their families thrive, financial assistance is available to those in need. To learn more about the Y's programs, please visit ymcamn.org.