Tip: Optimize your training for the Y Run by fueling up with foods that sustain your energy, promote muscle building and repair, and keep you feeling your best all the way to the finish line.
By the Chef Marshall O'Brien Group
The weather outside might still be frightful – but spring is right around the corner! Every April, the Y celebrates the coming of spring and healthy living with the Y Run. Start preparing now for a race you will be proud of! Make each training count by fueling up with smart nutrition to sustain energy, promote muscle building and repair, and provide adequate hydration. Condition your body with nourishing foods to feel your best and have your best race day yet!
Fuel Your Workouts with Complex Carbohydrates
Proper pre-workout nutrition helps you avoid running out of energy during your training. Complex carbohydrates are the perfect slow and steady fuel to maintain energy and sustain your workout. Avoid feeling sluggish or cramping by eating a meal rich in whole grains, vegetables and fruits two to three hours prior to your run. Limit your intake of added sugars and processed carbohydrates, which promote inflammation in your body and prolong post-workout soreness. Fill your muscles' energy stores and get the most out of your training with these complex carbohydrate-rich foods:
Whole grains like brown rice, barley, oats and quinoa
Whole grain bread
Whole wheat pasta
Vegetables
Whole fresh fruits
Build and Repair with Lean Protein
Protein is essential for maintaining or increasing muscle mass, as well as for tendon and muscle repair. Include protein in your pre-training meal two to three hours before your workout, and within the first two hours after your run to help rebuild. Beware of protein shakes and supplements that contain way more protein than your body needs. When you stick to whole foods, you give your body the protein it needs without going overboard. Good sources include:
Hard-cooked eggs
Nut butter
Poultry
Fish
Greek yogurt
Cheese
Replenish with Whole Foods
After a long workout, your body needs the right nutrition to replenish its energy stores and repair muscle tissue. Experts recommend 10 grams of protein within 15-30 minutes after a game or heavy workout. Sports drinks and bars are convenient for restoring glycogen and electrolytes – but many are high in added sugars, artificial flavors and colors, and excess protein. Instead, replenish with water and whole foods that rehydrate, replenish and repair without undesirable ingredients. Chef Marshall's deliciously easy Sweet & Savory Energy Bites are a perfect pre- or post-training fuel. These whole foods snacks provide the 4:1 ratio of carbohydrates to protein that is ideal for post-training repletion and repair:
Greek yogurt with a banana
½ cup dried fruit with a handful of nuts
hard-boiled egg and fresh fruit
Sustained Hydration
We all know hydration is key to athletic performance. But many don't realize that drinking water right before a workout is not enough – adequate hydration on race day begins with hydration the day before. It takes 8-12 hours to partially hydrate and 18-24 hours to fully hydrate Make a habit of carrying a water bottle with you so you can hydrate continuously. Fresh fruits and vegetables with high water content, like celery, watermelon, cucumbers and strawberries, add to your water intake. If you crave a change from plain water, check out our post on Better Beverages for Staying Hydrated.
Optimize Your Trainings with Smart Nutrition
With our busy schedules, most of us have limited time to spend at the gym. Powering up with the right nutrition helps you get the most out of your training sessions. In the weeks leading up to the Y Run, set a high priority on good nutrition, proper hydration, adequate sleep, and avoiding added sugars that zap your energy and prolong muscle recovery. When you have ample energy for your workouts, you will get the best results for your efforts and be ready for race day!
You will love the way you feel!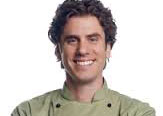 The Chef Marshall O'Brien Group is a dedicated assembly of professionals based in Minneapolis, Minnesota, committed to the goal of using nutrition to get kids and families to lead happier, healthier lives.