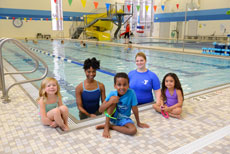 The YMCA swim curriculum makes it easy to know where to start.
Swimming is a skill that can be enjoyed year-round, can help maintain fitness at any age, and could save a life.
Whether you're considering Swim Lessons for your child or yourself, Emily Ayotte, Aquatics Program Manager at the Forest Lake YMCA says, "It's never too early or too late to start!"
The YMCA offers Swim Lessons for all ages, starting as young as six months old. If your child is afraid of the water, or doesn't like to be in the water, contact an Aquatics Manager to explore ideas to help and discuss how Swim Lessons might help.
The Y difference
Group swimming lessons were invented at the YMCA—and since the start, the Y has been committed to teaching technical swimming skills, and so much more.
In addition to learning how to swim, Y Swim Lessons work to:
Create a welcoming environment for everyone by employing the Y's core values of caring, honest, respect and responsibility
Build relationships with each swimmer
Build water safety skills and confidence in the water
Help swimmers have fun and make new friends—especially for young people, lessons seem like play
You don't have to be a YMCA member to sign up for Swim Lessons at the Y—they are open to everyone. If you're not a member, here are a few tips on what to expect.
Simplified sign up
Emily says one of the most common questions about Swim Lessons is, "Which one should I sign up to be in?"
All you need to do to sign up—either online, in person at your local Y, or by calling us—is to know:
The appropriate age group for you or your child:
For ages 5 and up, can you or your child swim halfway across the Y pool (12.5 yards) on the front and back without a flotation device?
If no, register for Swim Basics
If yes, register for Swim Strokes
The Y's Swim Lessons curriculum takes the pressure off you to guess which group lesson is right—and leaves it to certified and trained instructors to determine the best placement in stages that include:
Stage A: Water Discovery
Stage B: Water Exploration
Stage 1: Water Acclimation
Stage 2: Water Movement
Stage 3: Water Stamina
Stage 4: Stroke Introduction
Stage 5: Stroke Development
Stage 6: Stroke Mechanics
Flexible options
In addition to group lessons, customized swim lessons offer individualized attention—and are a great way to catch up or get ahead. It's up to you to determine the goals you want to work toward, and we'll match you with an instructor that can meet you where you are.
Private lessons are a great option:
To supplement group lessons
If you want to learn skills faster
If you're training for a swim-related event (like a triathlon)
Many Y locations also offer adaptive swim lessons for kids—contact an Aquatics Manager to learn more.