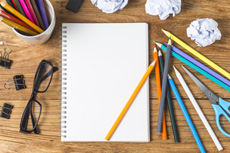 Today's the day—start logging your notes and celebrating your progress
Keeping a record of your exercise can be motivating, it can help you measure progress and much more. All it takes is setting aside a time to write down a few notes.
Why keep a fitness journal?
Whether you work out on your own, with friends or with a Personal Trainer, there are benefits to planning and tracking your exercise in a fitness journal. Kirk Erickson, Director of Healthy Living at the Forest Lake Y says, "You can't measure what you don't track. A fitness journal helps you know when you're making progress."
It can also help you:
Clarify your goals and what you want to work toward
Plan out specific times during your schedule to set aside for exercise
Keep you motivated
Help your workout time be focused on working out, instead of thinking of what to exercise
Notice any patterns—about what you like, when you're successful and more
What should you put in a fitness journal?
There are lots of different things you might put into a fitness journal—the key is adding the things that will be most helpful for you. While there are several pre-made options you can buy, it's just as effective to make your own in a notebook or keep track in an online document or app.
Your journal might include:
Inspirational quotes or images
A list of your fitness goals (check out these tips for creating goals)
Planned workouts (try this core workout if you're looking for ideas)
Actual workouts, including things like miles, reps, length of time, time of day
Notes on what you eat before and after a workout
Notes on how you're feeling before, during and after your workout
Tips for using a fitness journal
Be honest—this is a tool for you and only you
Try to remember to use it regularly
Keep it in view—it can be a visual reminder to do your workout, and add to the journal
Review it on a regular basis to track your progress and shift your goals, if necessary
Celebrate your successes
Kirk suggests you give yourself some leeway when getting started with a fitness journal. "It's a new task, so keep it simple at first so that it's easy to stick with it. You can add more details once you're in the habit of using a journal."