Tip: Satisfy your summer sweet tooth with fresh-from-the-garden desserts and indulge without feeling guilty!
By the Chef Marshall O'Brien Group
Some of the tastiest desserts are in-season now at your farmers market, food coop and local grocery store! Take advantage of summer's best produce with treats that will have you craving more fruits and vegetables. These fruit and vegetable-based desserts satisfy your summer sweet tooth and leave you feeling lighter, nourished and guilt-free.
Fruit-Based Desserts
Juicy slices of watermelon are the perfect ending to any summer picnic. But when you want something a little more complex, try one of these fruity summer treats:
Grilled fruit – Grilling concentrates and caramelizes the sugars, transforming fruit into a delectable dessert with a crunchy, sweet crust. Try Chef Marshall's Grilled Peaches with Yogurt or experiment with grilled pears, bananas, pineapple, grapefruit or even watermelon. 
Fruit crisp –Make a large batch of oat crisp topping and store it in the freezer. Whenever you come across irresistible berries, rhubarb or stone-fruit at the market, you can whip up an easy fruit crisp. 
Fruity Popsicles – All you need for easy, delicious homemade popsicles is fruit, a blender, and a splash of juice. Add yogurt or coconut milk for extra creaminess, and include whole berries or small pieces of chopped fruit for popsicles that are as beautiful as they are delicious. 
Chocolate-Dipped Fruit – Why limit yourself to strawberries? Try chocolate-dipped cherries, mango, bananas, kiwis or any other fruit for a yummy twist on the classic.
Farm-to-Table Treats
Vegetables for dessert? You bet! Go beyond carrot cake and pumpkin pie for lighter summer desserts fresh from the garden:
Carrot-Ginger Granita – Cooling granitas (like sorbet, with a coarser texture) are the refreshing answer to a hot summer day. 
Beet red velvet cake – Beets lend not only sweetness but a magical color to desserts like ice cream and pudding. Use them to replace the artificial coloring in decadent red velvet cake.
Sweet Corn Ice Cream – Nothing says summer like sweet corn – incorporate it into ice cream for a surprisingly delicious summer treat. 
Zucchini brownies – Any gardener who has grown this prolific veggie knows the value of recipes that incorporate zucchini. Why stop at zucchini bread and muffins when you can try zucchini brownies!
Desserts to Keep Cool
Nothing tames the heat like an ice cream cone on a hot summer day. These variations on homemade ice 'cream' will impress you with how easy and delicious they are. And you'll be surprised to know they are fruit-based and dairy-free.
Frozen banana ice 'cream' – Have overripe bananas turning brown in the fruit bowl? Peel and cut them into small chunks, and freeze in a freezer bag. Simply puree when you are ready for a fresh treat that you will swear tastes just like ice cream. 
Whipped Sorbet  – Chef Marshall's variation on banana ice 'cream' incorporates berries for a fresh summer sorbet. Experiment with other fruits to find your own favorite flavors. 
Avocado ice cream – Not quite as simple as puréeing frozen bananas, but irresistible and loaded with healthy fats, so you can feel good going back for a second bowl.
Satisfy Your Sweet Tooth with Fresh Summer Desserts
Tasty treats don't need to make you feel guilty! Satisfy your sweet tooth with inspired fruit and vegetable-based desserts that are both nourishing and delicious.
You will love the way you feel!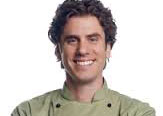 The Chef Marshall O'Brien Group is a dedicated assembly of professionals based in Minneapolis, Minnesota, committed to the goal of using nutrition to get kids and families to lead happier, healthier lives.