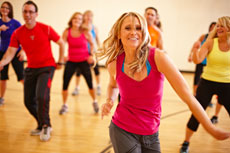 Burn calories and have fun with this high-energy cardio workout.
Get caught up in the Oula magic at the Y. This popular Group Exercise class has a reputation for being "the funnest workout ever."
What is Oula?
Originally created in Missoula, Montana (hence the name), Oula is an easy-to-learn, calorie-busting, crazy-fun dance workout set to popular songs from all genres.
We talked to Christina Leaks, a Group Exercise fitness instructor at the Andover YMCA, to learn more.
What to expect in an Oula class
"We start with a warmup and then the music and cardio intensity builds as we dance," Christina explains.
The easy-to-follow dance choreography is repeated throughout the class. "The moves should start to feel more familiar after you come to about three classes," she says.
If ever you get lost in the choreography, you can always:
Focus on either the arm or leg movements (not both)
Sit out for a song and just watch
Talk to your instructor after class to ask questions about a move
Whether you get all the moves "right" doesn't matter. You'll still leave class feeling pumped up after a fun and intense workout.
Why give Oula a try?
Beyond improving their cardiovascular health and building strength while having a good time, Oula class members enjoy a good mind-body connection and a sense of community.
"This class is a great way to release emotion in a welcoming and inviting environment," says Christina. "Plus, so many people in class form friendships."
By regularly attending Oula classes, you can expect to:
Burn calories
Build cardiovascular endurance
Improve heart fitness
Increase overall mind-body wellness
Make friends and join a community
Lose weight
"Personally, I've lost 80 pounds since I started with Oula," she says. "It's a great way to stay active, burn a ton of calories ... and I hardly even noticed how hard I was working since I was having so much fun."
If you've never tried Oula before …
Don't worry, you don't need to be a good dancer. In fact, you don't need any dance experience to get started. 
"I never danced before I took this class, and now I teach it," said Christina. "The moves we use in class can be modified for all ages and abilities."
Preparation tips for your first time at Oula:
Come to class in functional workout clothing that allows your body to move
Arrive a little early and let the instructor know it's your first class
Don't worry about bringing or using any equipment—all you need is your body
The class is open to all fitness levels. Kids ages 10-14 are welcome to attend with a parent or guardian and teens over 15 can attend on their own.
Oula is a Group Exercise class, which means it's free for Y members. Drop in to give it a try at any time—no registration required. Find an Oula class today.